ARETE Pilot 1 and Pilot 2: Implementations Update
Six months have passed since the deployment of the ARETE Pilots 1 and 2. We have the pleasure to share some updates regarding the first implementations. It has been going smoothly thus far, with both partners and teachers being highly engaged in their implementations.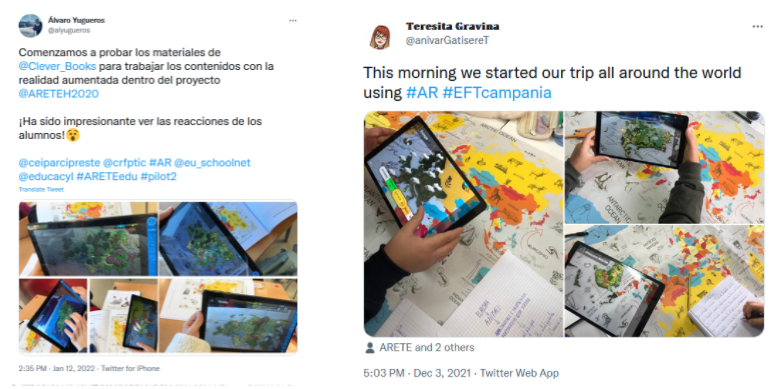 ARETE Pilot 1 has been investigating the effects of Augmented Reality (AR) on English literacy attainment by piloting WordsWorthLearning's interactive AR mobile application for teaching and learning English language literacy. The solution is being tested with primary school students, typically underperforming in standardised English language literacy tests.
The 9 teachers have been integrating AR features into their educational activities, which so far has resulted in further gains in literacy attainments and has been making the learning process more fun for the pupils participating. Pilot 1 is being implemented with the help of 68 pupils, equally split into two groups:
Group 1: 34 Students in the intervention group (immediate intervention and control)

Group 2: 34 Students in the ProfilED Control group (no intervention at any stage)
Since September 2021, Pilot 1 is being implemented in primary schools from Ireland, Italy, and Luxembourg.

ARETE Pilot 2 has been studying the impact of Augmented Reality (AR) technologies on STEM skills learning and retention by piloting two immersive AR mobile applications for learning Geography and Geometry, provided by CleverBooks, and developing both pupils' spatial and visual cognition.
The 128 STEM Teachers have been testing Pilot 2 together with 2508 students in schools located in the EU, the UK and H2020 associated countries. By using CleverBooks' applications, pupils have been showing a better grasp of both their spatial and visual cognition by learning the foundations of Geometry and Geography and understanding the structure of abstract objects.