CNR, Augmented Reality and Mixed Reality at SharpER Night in Palermo.
The 24 th September Sharper Night, the Researchers' Night, was the event presented in 16 town in Italy. Astronomy, Physics, Medicine, Robotics, Technology, Informatics and more research fields attracted families, students, teachers and a big part of the citizenship of Palermo, presenting how researchers use their passion in science, to reach the goal of a sustainable growth.

The Institute of Educational Technology presented some of the most important European projects, by using Augmented Reality. The ITD's researchers organized a treasure hunt and, thanks to the AR Lectio APP, realized by ITD, presented the activities of the Institute by teasing the audience attention.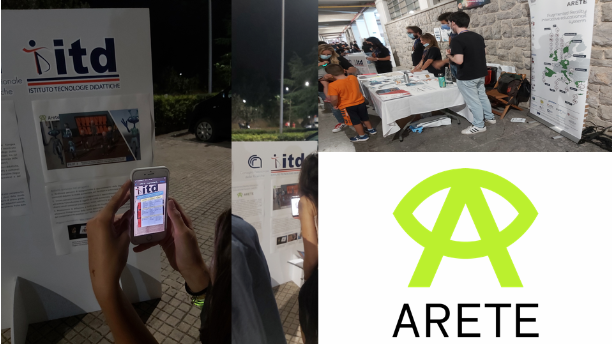 The AR Lectio app, using the AR technology, entertained the audience, the youngers above all, and at the same time, showed how AR can be used to teach and communicate.

The ARETE project was one of the projects that the Institute of Educational Technology presented and participants tackled some riddles to discover and learn about some Positive Behaviour Support concepts in the company of our little alien friend ARpro, entertaining both children and their parents.