ARETE opportunities for primary school teachers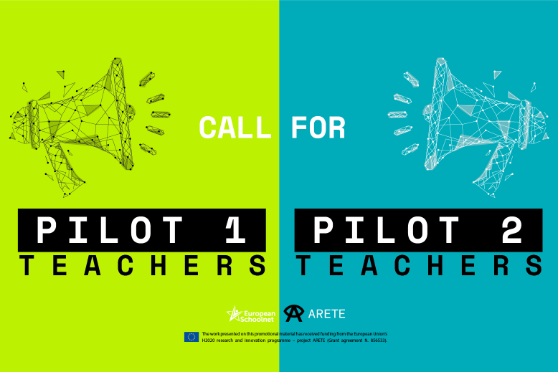 If this is your first time hearing about the ARETE project, it aims to test the usefulness of Augmented Reality (AR) technologies in education. In this regard, European Schoolnet is recruiting teachers to trial the WordsWorthLearning and CleverBooks interactive Augmented Reality solutions in primary schools.
Are you an English teacher or a Special Needs Assistant (SNA) in a primary school where English is the main teaching language?
Pilot 1 teachers will implement the WordsWorthLearning AR app to facilitate teaching English language reading and spelling skills to struggling students. The aim is to make both teaching and learning of the English language more accessible and successful for teachers and students alike. Implementation of Pilot 1 activities (including pre- and post- assessments as well as testing the app) will take place between September 2021 and June 2022.
Seize the opportunity and submit your application at: http://bit.ly/AR-pilot-1-teachers.
Are you a primary school teacher excited to test the latest AR technologies for STEM? Will you be teaching either geography or geometry subject to 4th or 5th graders during the next school year?
In ARETE Pilot 2, the teachers will focus on the innovative and exciting way of learning geometry and geography through visualisation and interaction via CleverBook's AR app. By understanding and engaging with abstract objects, pupils will have the opportunity to develop both their spatial and visual cognition while learning through critical thinking. Implementation of Pilot 2 activities will take place the next school year (September 2021-June 2022).
Teachers are required to apply in pairs, so submit your joint application with a like-minded colleague at: http://bit.ly/AR-pilot-2-teachers.
Bring the most immersive AR solutions in your classroom by applying now!